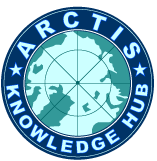 ARCTIS is based on Tiki wiki software and the CHNL specifications.
Features in In ARCTIS:
Find and search relevant information on the High North
Find Information structured in topics
Members/editors can use the editorial process to nominate, discuss, work, publish and endorse content.
Sponsor banners are displayed on the homepage
Authors can use a word plugin to create documents
Registered users can download content and make payment
Registered users can nominate and discuss content
Using the Wiki
At the heart of ARCTIS is the Wiki engine. By using Tiki's wiki, you can create and edit nearly any page — without needing to learn HTML.
To learn how to use the wiki please se more in the Tiki Wiki User Guide
Using ARCTIS
The handbook can be accessed by clicking the 
on the right side of the menu.
The ARCTIS Editorial Process is largely managed by the members and the topic reponsibles. It pushed nominations or new work, through the work phase to publication. Quality checks, e.g. peer reviews, are enforced along the way, to ensure that all published material are up to current scientific standards.
Please see Role Guide for the tasks of the different roles.
---