The Asian States and the Arctic
(by Willy Østreng)
Introduction
Two issue areas seem to attract the collective attention of the Asian countries: a) The oil and gas potential of the region; and b) transportation corridors through Arctic and southern waters.
 Energy prognoses suggest that Asian countries will be responsible for the biggest increase in the demand for petroleum products in the future. The International Energy Agency (IEA) predicts that India and China will account for just over half of the increase in world primary energy demand between 2006 and 2030, and fossil fuels will account for 80% of the world's primary energy mix in 2030.
According to the Norwegian Foreign Minister "The energy sucking glances of the world are now being insistently directed towards the North1 ." For logistical reasons most of these resources will in the short term be sold on the European and American markets, but as has been pointed out, "due to ice melting and shortened transportation routes, Asia may turn out to be an attractive market as well..."2
About 90% of world trade and 2/3 of the trade with petroleum is transported on keel. Prognoses are that this will continue to be the case. Thus, transportation routes – old, new and not yet established - are of paramount importance to the economic and energy security of petroleum importing countries in Asia as elsewhere. The political focus of Asian states is now increasingly on the North Pacific and the Arctic. The renewed interest for the Arctic has made Singapore - one of the major shipping hubs of the world - examine what possible effects an opening of polar routes may have on her own shipping business.
China and the Arctic
China is a leading blue water shipping nation and has for the last ten years had a global strategy to quench her industrial thirst for more oil and gas. Nearly half of China's gross domestic product (GDP) is thought to be dependent on shipping3 .  In the period 1993-2006, Chinese oil companies invested in 120 projects all over the world to a value of more than 27 billion dollars. Big surplus on the trade balance still makes it possible for the Chinese government to further its aggressive foreign investment policy in spite of worldwide financial crises. Recently, China gave a loan to Russia of 25 billion dollars as an impetus for Russian companies to increase their petroleum production, and in 2008 a Norwegian rig company was bought at the net sum of 12.5 billion NOK4 .
Although, Assistant Minister of Foreign Affairs, Hu Zhengyue claims that China does not have an Arctic strategy, it appears that China has an Arctic agenda. Expert opinion is that "China can be expected to seek a role in determining the political framework and legal foundation of future Arctic activities5 ". The prospects of the Arctic being navigable during more months of the year, leading to both shorter shipping routes and access to untapped energy resources, has impelled the Chinese government to allocate more resources to Arctic research.
China - as a non-Arctic country - has one of the world's strongest polar scientific capabilities to be applied to the Arctic. Since 1984 the State has organized 26 expeditions and established 3 research stations in Antarctica6 . China took an interest in the Arctic in the mid-1990s. China's first Arctic research expedition by sea took place in 1999, and since then it has carried out two more expeditions, in 2003 and 2008, with a fourth planned for the summer of 2010. In October 2009 the State Council decided to replace the vessel they used for these expeditions because it no longer met the demands of the country's expanding polar research. The decision is to build a new high tech polar expedition icebreaker at the cost of 2 billion yuan (300 million US dollars). The new vessel, which is to be built in China, is expected to be operational in 2013.
China's first Arctic research station was founded at Ny Ålesund in Svalbard in July 20047 . As observed by the Norwegian Foreign Minister: Asian countries like China express their interest for the Arctic "by establishing themselves with scientists in Svalbard."8
To secure her national interests in the High North, the Chinese government in 2007 launched a national research program covering 10 Arctic projects of geopolitical interest: 1) Arctic and human society; 2) Arctic resources and their exploitation; 3) Arctic scientific research; 4) Arctic transportation; 5) Arctic law; 6) Arctic politics and diplomacy; 7) military factors in the Arctic; 8) China's Arctic activities; 9) Arctic's strategic position; and 10) China's Arctic policy and recommendations.
The program lasted for two years and was completed in 2009, but the reports have not been made public9 . Vice Premier, Li Keqiang in a recent speech urged Chinese scientists to continue to  push forward in polar and oceanic exploration to serve the county's modernization drive because the oceans has become an important source of natural resources10 .
Besides her own scientific endeavours, China has collaborated with international partners to monitor the environmental changes in the region. In 1997 China joined the International Arctic Science Committee (IASC) that aims at facilitating multidisciplinary research on the Arctic region and its role in the earth system. From March 2007 to March 2009 a group of Chinese polar experts worked in the International Polar Year Program11 . China has also participated as an ad hoc observer in two Arctic Council Ministerial Meetings, in 2007 and 2009, and hopes that its application to be granted permanent observer status will be decided as soon as possible12 .
Moreover, for more than a decade Chinese researchers and officials have participated in international seminars on multiple topics of Arctic geopolitical relevance. Chinese officials seem to vacuum clean the international seminar market on Arctic issues to secure participation of their own polar peoples even in small far-away places.
As has been observed to date "China has adopted a wait-to-see approach to Arctic developments, wary that active overtures would cause alarm in other countries due to China's size and status as a rising global power. Chinese officials are therefore very cautious when formulating their views on China's interests in the Arctic."7
Figure 2.3: A Chinese View of Arctic Sea Routes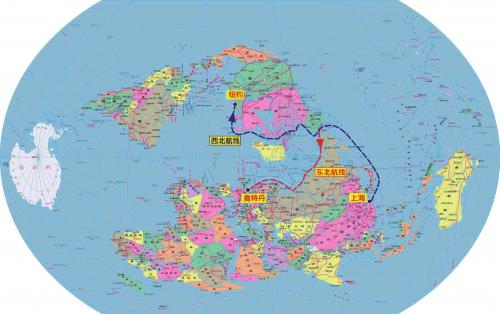 .
Japan and the Arctic
Japan is the country in Asia where the NSR has received the most attention both from central governments and private foundations. The Japanese Ministry of Transport was actively involved in organizing the International Northern Sea Route Programme (INSROP) together with the Japanese Ship & Ocean Foundation (SOF) in the early 1990s. SOF, which was one of three principal partners in the implementation of INSROP which lasting for six years, also organized and sponsored the scientific trial test, transiting the NSR with the Russian ship Kandalaksha from Yokohama to Kirkenes in August 1995.
SOF also organized the international INSROP Symposium in Tokyo13 in 1995 and a follow up research program - JANSROP - which focused attention on the establishment of a transportation system to bring energy resources from Far East Russia to international markets14 . Last but not least, the northern Japanese prefecture of Hokkaido knows the Arctic and the NSR from its participation and membership in the Northern Forum.       
South-Korea and the Arctic
South-Korea being the fourth largest oil importing country and the tenth largest oil consuming country in the world is dependent on oil deliveries from the Middle East. From a logistical point of view, the security of marine transportation routes for oil between Northeast Asia and the Middle East has been seriously threatened by piracy and conflicts among Asian countries.
In response to the threat to these southern supply routes, it is necessary to exploit various other transportation routes and modes for natural resources15 .
For this reason, Russia has been identified as strategically important to South-Korea as a new alternative energy source in accordance with South-Korea's strategy of diversifying the countries she imports from15 . In line with this, South-Korea is planning to build an icebreaker to be launched in 2012, primarily intended for scientific research in the Arctic Ocean and to develop Arctic transportation routes16 . The South-Korean government has recently restated her interest in involving herself in the development of Arctic sea routes17 .
India and the Arctic
India - the second most populated country on the face of the Earth - has expressed an interest in deliveries of oil and gas from the High North to feed her rapidly growing economy. For a State with no prior history in and interest for the Arctic such expressions are signs of increasing and serious interest in northern affairs. It should be remembered that India like China already have a strong 'polar connection' to Antarctica as a Consultative Party to the Antarctic Treaty of 195918 . India's Antarctic experience can be applied to secure her national interests in the Arctic.
As has been noted: "The Asian dimension will result in a possible change of the constellation of actors and the geopolitical dynamic of the North."2 It is time to prepare politically and diplomatically for meeting "the strategic consequences of three continents growing together in the North."
Willy Østreng, 2010, The Asian States and the Arctic, CHNL.© 
---