Maritime Safety Rules and Standards
(from AMSA Report 2009)
Ships and their crews operating in the Arctic environment face unique risks. A significant body of international public maritime law has established safety, environmental and security rules and standards for international shipping and seafarers. Generally, the contents of IMO safety conventions are not specific to Arctic shipping. Nonetheless, many of the requirements, for example, double hulls for tankers and increased safety and communications equipment systems for passenger ships and cargo ships, will affect ships trading into or transiting Arctic waters. Not all applicable standards are mandatory. Whereas the provisions of the International Convention on Safety of Life at Sea, 1974 (SOLAS), for example, are mandatory, the 2002 IMO Guidelines for Ships Operating in Arctic Ice-covered Waters (Arctic Guidelines) only provide internationally accepted recommendatory guidelines. These guidelines, however, are under review by the IMO.
For the most part, international safety standards for merchant shipping are formulated in the rules, codes and procedures adopted within the framework of SOLAS (Table 4.2). The convention specifies minimum safety standards for the construction, machinery, equipment and operation of ships. Flag states are responsible for ensuring compliance of their ships with SOLAS requirements, and certificates are prescribed as proof that this has been done. Using port state control, contracting states can inspect ships of other states on a non-discriminatory basis. Chapter V of SOLAS sets forth provisions of an operational nature including the maintenance of meteorological services for ships, the ice patrol service, routing of ships and the maintenance of search and rescue services. Chapter VII of SOLAS regulates the carriage and care of dangerous goods through the International Maritime Dangerous Goods (IMDG) Code and the carriage of liquefied natural gas (LNG) through the International Code for the Construction and Equipment of Ships Carrying Liquefied Gases in Bulk Code (International Gas Carrier Code). The IMDG Code may need to be reviewed for the purpose of identifying any dangerous goods that may be affected by extremely low temperature during transportation in the Arctic.
Table 4.2 Ratification of International Maritime Safety Agreements and Instrument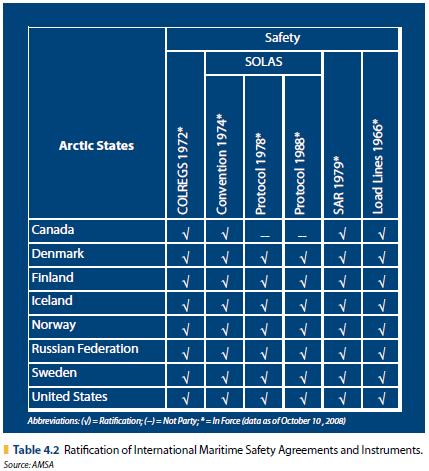 Source: AMSA
The American Bureau of Shipping and the Russian Maritime Register of Shipping recently announced they are jointly developing classification rules for Arctic LNG carriers. Ice-strengthening for LNG carriers focuses on hull, containment system, propulsion and propeller requirements.
SOLAS also includes specifications for passenger ships. However, at this time there are no international construction requirements specific for cruise ships in polar operations. Cruise ships, which are not classed as ice-strengthened, may operate in the Arctic at certain times of the year and in areas of open water. The international cruise ship industry has initiated a Cruise Ship Safety Forum to develop design and construction criteria for new vessels and to consider other safety issues.
Additional non-mandatory industry standards for passenger ships have been adopted by the IMO. In January 2008, the IMO adopted Guidelines on Voyage Planning for Passenger Ships Operating in Remote Areas, also called the Arctic Guidelines. The Guidelines call for ships to develop detailed voyage and passage plans that include contingency plans for emergencies. Emergency contingency plans should be developed with reference to the IMO MSC/Circular 1184, Enhanced Contingency Planning Guidance for Passenger Ships Operating in Areas Remote from SAR Search and Rescue Facilities. This guidance document outlines extra steps that should be taken when passenger ships operate remote from SAR facilities, including keeping the appropriate authorities informed of the ship's position and intentions while the ship is operating in the remote area. Consideration should also be given to voyage "pairing" (i.e., coordinating travel with another vessel to ensure emergency assistance), the carriage of enhanced life-saving appliances and the provision of additional life-saving resources.
The 1994 International Safety Management Code (ISM Code), adopted under Chapter IX of SOLAS, provides an international standard for safe management and operation of ships and for pollution prevention. The code calls on shipping companies to establish a safety and environmental protection policy ("safety management system") that is both ship-based and shore-based. The safety management system should ensure compliance with mandatory rules and regulations, as well as industry standards, and is subject to certification by national maritime authorities and verification by both flag and port states. The ISM Code is applicable to ships operating in Arctic waters although its provisions do not deal with the special circumstances and operational hazards of Arctic navigation. As shipping activity increases in the region, express provision for safety management for ice navigation might need to be considered.
The voluntary Arctic Guidelines apply to ships covered by SOLAS, including passenger ships and cargo ships of 500 gross tonnage or more engaged in international voyages in ice-covered waters (Map 4.1). The Arctic Guidelines are additional provisions deemed necessary for consideration beyond existing SOLAS requirements. They provide the most comprehensive standards for ships in ice-covered waters, including construction, equipment and operational matters.
Map 4.1 Geographical scope of the 2002 IMO Guidelines for Ships Operating in Ice-covered Waters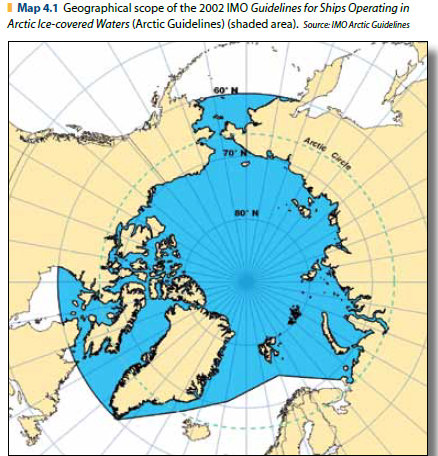 The Arctic Guidelines are structured in four parts. Part A provides construction, subdivision and stability in damaged condition recommendations for new Polar Class ships. The guidelines suggest a harmonized classification of Polar Class ships into seven categories according to intended ship operations and the level of ice in the area (Table 4.3). Ships should be able to withstand flooding resulting from hull penetration due to ice damage. No pollutants should be carried directly against the hull in areas of significant risk of ice impact. Operational pollution of the environment should be minimized by equipment selection and operational practice. Navigational, communications, safety-related survival and pollution control equipment should be appropriate for Arctic conditions.
Table 4.3 The Arctic Guidelines and the Unified Requirements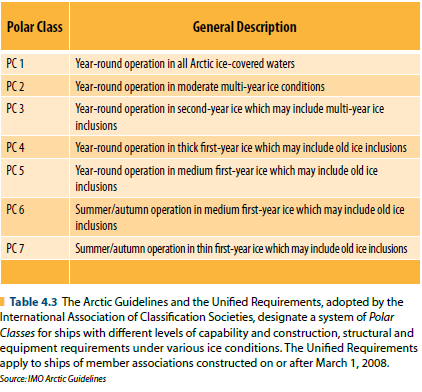 Part B applies to Polar Class and non-Polar Class ships and includes recommendations on fire safety, fire detection and extinguishing systems, life-saving appliances and arrangements and navigation equipment in conformance with SOLAS, Chapter V. All Polar Class ships should be provided with an Automatic Identification System. Polar Class ships are encouraged to carry fully enclosed lifeboats. Other ships are urged to carry lifeboats having tarpaulins of sufficient size to provide complete coverage from environmental conditions.
Part C concerns ship operations, crewing and emergencies. Ships should carry operating manuals, as well as training manuals with relevant information concerning operations in ice-covered waters, including emergency procedures. Qualifications and training for crew and ice navigators are suggested.
Part D provides for environmental protection and damage control equipment, recognizing the navigational and environmental hazards and limited response capabilities for assistance in Arctic ice-covered waters. All ships navigating in Arctic ice-covered waters should be adequately equipped and their crews properly trained to provide effective damage control and minor hull repair, as well as containment and cleanup of minor spills.
The Arctic Guidelines have been criticized for various deficiencies. Criticisms include the lack of details or uniform international standards on training, failure to require actual ice navigational experience for ice navigators and limited provisions on prevention and mitigation of sea-spray icing of ships. Guidance about towage in ice-covered waters is also limited. The IMO recently agreed to revise the Arctic Guidelines and to extend their application to the Antarctic.
The Convention on the International Regulations for Preventing Collisions at Sea, 1972 (COLREGS) sets out technical and seamanship rules for ships on the high seas and in all other waters navigable by seagoing vessels connected thereto, including bays, straits, territorial seas and EEZs. COLREGS applies to navigation in the Arctic, but it does not contain specific rules for ships navigating in ice-covered waters. COLREGS covers a situation where a ship is constrained in its ability to maneuver due to size, draft or other reason such as ice. However, the application of some rules may need to be considered with reference to ice navigation. With an extended Arctic shipping season and increased ship traffic, COLREGS can be expected to assume greater importance. The remoteness and harsh conditions present special search and rescue challenges in the Arctic. The International Convention on Maritime Search and Rescue, 1979 (SAR Convention) provides for rescue coordination centers, ship position reporting systems and expedited entry of rescue units into the territorial waters of other states. Arctic state parties to the SAR convention shall coordinate SAR incidents in their respective areas of responsibility and cooperate with each other as required. The IMO has established 13 major search and rescue areas around the world, within which coastal states have designated search and rescue regions.
The Global Maritime Distress and Safety System (GMDSS) facilitates maritime safety communications for merchant and passenger ships. The Arctic is "Sea Area A4" and extends to 90˚N for GMDSS purposes. Canada, Norway and the Russian Federation plan to coordinate navigational and related maritime safety information in one or more designated navigational areas (NAVAREAs) by 2011.
Representatives from the five Arctic coastal states meeting in Ilulissat, Greenland, recently adopted a declaration reaffirming their commitment to work together through the IMO to strengthen existing measures and to develop new measures to improve the safety
of maritime navigation and prevent or reduce the risk of ship-based pollution in Arctic waters. The Ilulissat Declaration recognizes the need to further strengthen search and rescue capabilities and capacity around the Arctic Ocean.
As international shipping increases in the Arctic, it should be expected that ships will be more frequently in need of assistance. There are, however, practical difficulties in finding and supporting suitable places of refuge for ships in the Arctic, even during the summer navigation months. The 2003 IMO Guidelines on Places of Refuge for Ships in Need of Assistance provide a risk assessment and decision- making framework for coastal state decision-makers, masters of ships and salvors when a ship needs refuge in sheltered coastal waters such as a port or a bay. The guidelines are not mandatory. Many states have adopted places of refuge policies and/or designated such places, with the European Union requiring member states to designate places of refuge.
When a ship becomes a casualty and eventually sinks, it may continue to pose a hazard for navigation. Shipwrecks within and beyond the territorial sea will eventually be covered by the 2007 Nairobi International Convention on the Removal of Wrecks, which is not yet in force. Shipowners are responsible for locating, marking and removing ships, and must carry suitable insurance for this purpose.
Arctic Council, 2009, Arctic Marine Shipping Assessment (AMSA), Arctic Council.©
---