Arctic Shipping and logistics
(from Lloyd's Report 2012: Arctic Opening – Opportunity and Risk in the High North)
Maritime traffic in the Arctic is already considerable. The 2009 Arctic Marine Shipping Assessment reported 6,000 vessels active in the Arctic1. Year-round navigation has been maintained on the western part of the Russian Northern Sea Route (between Dudinka and Murmansk) since the late 1970s. Seasonal conditions vary across the Arctic (see Figure 12). However, ice conditions are not necessarily worse in the Arctic than elsewhere. For example, in March 2011 ice conditions in the eastern Gulf of Finland outside the Arctic required a Russian nuclear icebreaker to be called in from the Arctic.
As shipping seasons extend, Arctic shipping costs are reduced and point-to-point demand increases, traffic is expected to increase in future years. Already, each Arctic shipping season is marked by a new development. In 2011, the Sovcomflot-owned Vladimir Tikhonov became the first supertanker (Suezmax) to sail the Northern Sea Route, with a cargo of 120,000 tonnes of gas condensate. Later that summer, the largest ever bulk carrier crossed the Northern Sea Route when the Japanese-owned Sanko Odyssey, carrying 66,000 tonnes of iron ore concentrate, completed a voyage from the Russian Kola Peninsula to Jingtang in China. In the summer of 2012, the Korean-built and Norwegian-owned Ribera del Duero Knutsen is expected to become the first LNG carrier to transit the Northern Sea Route, from Norway to Japan.
Each of these voyages has had to take on expensive icebreaker support, with ships capable of breaking through several metres of ice, despite relatively little ice being encountered in 2010 and 2011. The largest and most powerful icebreakers can cost up to $1bn and take 8–10 years to build2 . Hiring charges vary, but the average cost for escort through the Northern Sea route is around $200,0003. However, carrier ships able to travel through ice of up to 1.5 metres without icebreaker support have been developed by the company Aker Arctic in Finland. As sea ice retreats and thins there is far greater prospect of Arctic shipping without icebreaker support for longer periods of the year, and ultimately all year round, in some parts of the Arctic.
This increase in traffic will put additional pressure on coastguards, search and rescue and hydrographic services. In 2012, a single shipping management system for the whole length of the Russian Northern Sea Route is due to be established. In Canadian Arctic waters, shipping is subject to the Arctic Waters Pollution Prevention Act (AWPPA). The International Maritime Organisation has issued guidelines for ships operating in Arctic areas, and these are currently being developed into what will become a compulsory Polar Code. Across the Arctic, considerable investment is being made in hydrographic services to improve seabed mapping for shipping – previously not a priority – and by national governments into improved surveillance and other capabilities.
The increase in traffic will also provide opportunities for specialised ship-builders and ship-designers, in the Arctic countries themselves and in new centres of ship construction in East Asia. Norilsk Nickel has invested heavily in ice-capable vessels to ship minerals from Arctic Russia to both Europe and China without icebreaker support (xxvii).
Most shipping journeys are currently re-supplying voyages to communities and installations in the Arctic and point-to-point rather than trans-Arctic. Although nuclear icebreakers – far more powerful than conventional diesel-electric icebreakers – make most places in the Arctic technically accessible all year round, most Arctic shipping remains seasonal, because ice reduces shipping speeds and incurs additional fuel costs, and because the cost of using icebreakers may make a voyage uneconomic. If offshore Arctic oil and gas development increases, so will point-to-point maritime traffic, encouraging additional investment in marine infrastructure and ship design. The emergence of the Arctic as a large-scale, bulk-carrier transport corridor is a longer-term prospect, though the first steps towards establishing it have already been taken. The basic commercial logic behind trans-Arctic shipping is the shorter geographic distances involved, and the expected resulting decrease in days at sea and fuel costs (see Figure 13).
Distance is important, but it is not the only consideration in determining how fast the Northern Sea Route, or other trans- Arctic shipping routes, will develop. Navigability of particular routes in terms of sea-depth, knowledge of the seabed, availability of suitable ships and the risks associated with Arctic shipping are all factors. The existence and location of trans-shipment ports – to allow transfer between Arctic and non-Arctic vessels – may shape Arctic maritime logistics in the future. The cost competitiveness of Arctic routes relative to more southern routes may be constrained by:
• The time taken to issue permits and the cost of these permits relative to other passages.
• The relatively slow speed of ice-breaking transport vessels (where still required).
• The challenge of full utilisation of tonnage capacity in both directions (xxix).
• The cost of insurance.
• The need to prepare vessels for Arctic conditions through winterisation processes (such as installing ice navigation radar systems, heating arrangements for pipes, on-board ice removal equipment and ensuring the ship's bridge is fully enclosed4).
• The infrastructure, surveillance and management of Arctic sea-lanes.
A comparison of two often-cited Arctic shipping routes – the Northwest Passage through Canada's Arctic and the Northern Sea Route across the northern coast of Russia – suggests that the Northern Sea Route is more likely to be subject to large-scale development over the next 10–20 years because of political support, projected ice conditions (see Figure 13) and the development of onshore and offshore mineral resources in the Russian Arctic5. The Northern Sea Route may ultimately become a major global energy corridor between Russia and East Asia.
While trans-Arctic shipping volumes along the Northern Sea Route are insignificant compared with overall global shipping volumes, total cargo has increased by a factor of ten in recent years (though from a historically low level following the collapse of the Soviet Union)6. Looking to the future, by the middle of the coming century, Arctic conditions may have changed so much that a shipping route across the North Pole, bypassing the Northern Sea Route and the Northwest Passage, becomes commercially viable (see Figure 14).
Figure 12: Current winter and summer conditions along the Northern Sea Route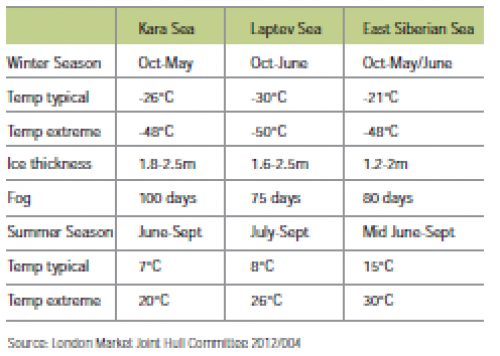 Figure 13: Distances and potential days saved for Asian transport from Kirkenes (Norway) and Murmansk (Russia)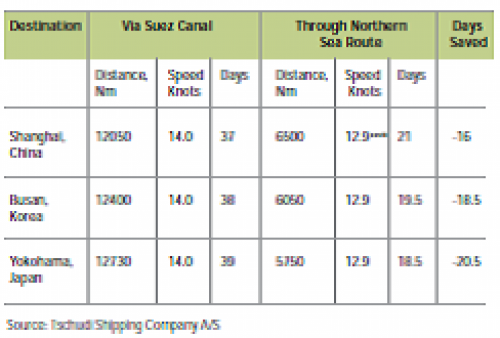 Figure 14: Maritime accessibility in 2000-2014 and 2045-2059 (Type A vessels, July-September)5

Footnotes: 
(xxvii) In September 2010 the ice-class diesel-electric Norilsk Nickel-owned Monchegorsk sailed from the Siberian port of Dudinka, near Norilsk on the Yenisey river, to Shanghai, without ice-breaker support. The ship returned to Dudinka in November, taking just over 7 days to travel from Cape Dezhnev on the Bering Strait to Dudinka (2,240 nautical miles).
(xxviii) Based on an actual voyage performed by M/V Nordic Barents from Kirkenes to Lianyungang (China), September 2010.
(xxix) Ships used in the Arctic may be useful for one-way voyages where a cargo is to be carried from A to B, but in order for such voyages to be commercially viable, the ship must be able to return to the point of departure, preferably with a cargo to defray the costs of the return journey. Economic viability is therefore enhanced by two-way traffic.
Charles Emmerson, Glada Lahn, 2012, Arctic Shipping and logistics, Lloyd's.© 
---